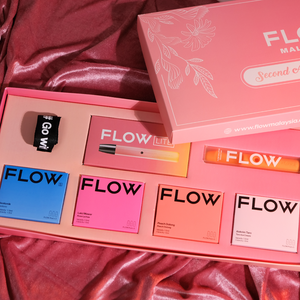 FLOW Malaysia
2nd Anniversary Set
Sale price Price RM260.00 MYR Regular price RM385.00 MYR Unit price / per
2nd Anniversary Set
(promo price: RM199, np: RM385)
Buy 4 Free 4 
Buy 4 pods ,
FREE Flow Lite ,Silicone Case, Lanyard & Courier Service!


So, what is inside the FLOW 2nd Anniversary set?

1. FLOW Juice Pod x 4

Choose your favourites to enjoy!

2.FLOW Lite x1

Use our gradient series! Sunrise Pink or Milky Way Black! 

3.Flow Silicone Case x 1

Pick a fun silicone case colour to match your device! 

4. FLOW Lanyard x 1

Time to show it off to your buddies!

Shipping & Delivery


Upon order confirmation, you'll receive your order in 3-7 business days!
Our shipping charges are as follows 
During the holidays, the delivery may be delayed by an additional 1-3 business days.
WHAT ARE DELIVERY OPTIONS?

Express Delivery

HOW LONG DOES IT TAKE TO RECEIVE MY ORDER?

Express Delivery: 4 - 6 business days
During the holidays, delivery may be delayed by an additional 1-3 business days.


HOW MUCH WILL SHIPPING COST?

- Flat shipping rate of RM8 per order for West Malaysia
- Flat shipping rate of RM23 per order for East Malaysia

WHAT SHIPPING COMPANIES DO YOU USE?

We work with a private shipping service provider that is safe, efficient, and reliable.
Sleek anodised and nanotech moulded device that fits your hand perfectly.
An ergonomic mouthpiece that seamlessly delivers an unparalleled taste.
The New Generation of Nicotine Salt
Faster absorption for a stronger hit
Taste and feel like a real cigarette
Each pod contains 1.5ml of e-liquid and provide 350-640 puffs.
Faster absorption for a stronger hit
Taste and feel like a real cigarette
Each pod contains 1.5ml of e-liquid and provide 350-640 puffs